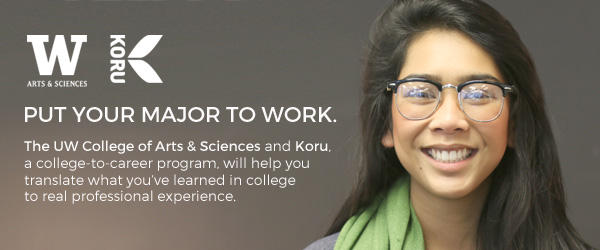 The University of Washington College of Arts & Sciences is teaming up with Koru, a Seattle-based company with roots in the Gates Foundation, to host a two-week, immersive career accelerator in summer 2015 called Koru@UW A&S. Please use the information and toolkit items below to inform students about this new and innovative opportunity.
About Koru@UW A&S: The program will introduce Arts and Sciences students to skills they will need in the business world.  They will learn about the wide range of businesses--from start-ups to non-profits to established corporations--for which an Arts and Sciences degree can prepare them. Working in small teams, they will tackle a real-life business problem presented to them by a local company.   With guidance from UW Career Services, they will assess their existing skills and learn how they can further develop their skills through their Arts and Sciences education. 
This program is voluntary and will carry no academic credit.  It is designed for currently-enrolled UW freshmen, sophomores, and juniors who are majoring in, or intend to major in, an Arts and Sciences subject.  We will run two 2-week long sessions on the UW Seattle campus. The first will run from August 17-28 and the second session will be from September 7-18, 2015.  Tuition is $800, with financial aid available for eligible students.  Students wishing to live on campus during the program can make room and board arrangements with UW Housing and Food Services.
More information is available at www.artsci.washington.edu/koru, including a link to the application procedures and deadlines. If you know of a Husky student that will benefit from this program, please encourage him or her to apply! 
Link to more information: http://artsci.washington.edu/content/koruuw 
Link to application: http://www.joinkoru.com/uwcas (note that this auto-loads the program title, description and banner image on Facebook and LinkedIn, so it's super easy to share)
Copy for posting to social media: 
CONNECT COLLEGE TO YOUR CAREER.
Want all the benefits of a summer internship...in 2 short weeks? UW and Koru are hosting a summer job prep program for students in the College of Arts and Sciences. You'll work on real projects for real companies and walk away with hands-on job experience. You'll also expand your network for future summer job or internship opportunities. It's a win-win. Join us!
Koru@UW A&S Video: https://www.youtube.com/watch?v=jrR1Y3j14Aw
Koru Video: https://vimeo.com/86363343
Images (including landing page banner with UW and Koru logos, plus individual Koru logo): https://www.dropbox.com/sh/dzgw6vajnizr50m/AABQEi_oyidHaaNEZpZucpBsa?dl=0