Dean's Office contact: Margie Ramsdell
The College of Arts & Sciences now requires an electronic copy of all promotion documents.  The electronic copy is in addition to the ORIGINAL PLUS ONE COPY that must be submitted.  This page gives instructions on how to provide the electronic copy to the Dean's Office. 
The electronic copy is due by December 16, 2019.
Instructions
Only the DESIGNATED administrator in each unit is authorized to upload the documents.  The administrators have been granted permission to a departmental folder on the site.
1.  Prepare your documents.  The following documents should be prepared as a single PDF.
COMPLETE PROMOTION PACKET (DO NOT INCLUDE PUBLICATIONS)
Any scanned documents should be at the lowest readable resolution in order to keep the file size lower.
Please use the latest version of Adobe Acrobat.  If you have questions, please contact your technical support. 
The final PDF file size should not exceed 20 mb.
2. Log in to the CAS Promotion Document Review web site. (Available September 1).
Use your uw email address to on the OFFICE 365 login page.  You will be routed to the UWnet login screen.
Use your UW NETid as the username with your UWNETid password.
You may be familiar with this login process as it is used on the College's Department Dropbox web site.
You can contact Shane Fricks at 6-2125 or sfricks@uw.edu if you need assistance.
3.  Open your departmental folder.
5.  Use the Upload button to submit your files.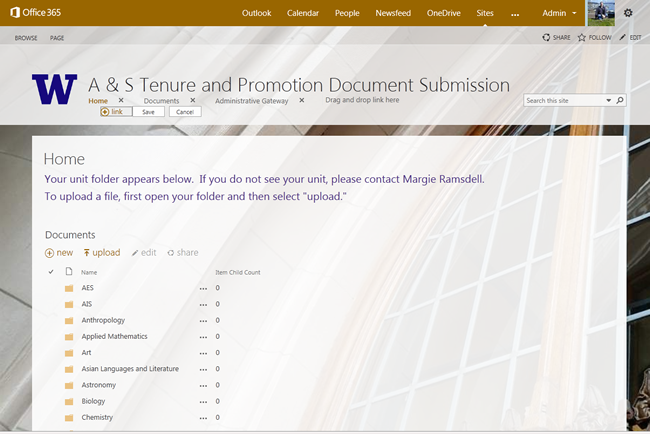 Go to the Promotion Document Review web site.